This time last year as Christmas was approaching, there was a very different feel in the air.  Many of us wanted it just to be over and those who were not leaving for the holidays, were struggling with renovations and lack of power.  One year on and there is a much more positive vibe to preparing for the season.
In the shop, we have been asked for weeks, when we will be decorating.  Well….now we have.  It's always quite a mamoth task but with two extra rooms this time around, it was all hands on deck to deliver a festive look ready for Monday.
We crank up the music and carry hundreds of boxes of pre-priced decorations into the shop and try and make some sort of sense out of the chaos!  Check out Instagram @housebvi for a timelapse video taken during the afternoon.  So much thanks to Becs, Suzie, Laura, Brenda, Josh, Zoe and the lovely Lisa who has become a christmas necessity and keeps us all chuling with jokes, champagne and chocolates.
Decorating in the Caribbean is a little different to traditional Christmas decor in colder climbs.  We tend to steer away from the red and white, holly berries and Yule logs as these things just work for sunnier spaces.  We can however, take the opportunity to incorporate the colours of our surroundings and these days, there are many options to use when decorating.  Here are a few tips for decorating in the islands that may help you this season whether you are starting from scratch with decorations or want to change it up a notch.
 If space is tight, or the budget doesn't allow, dont feel like you MUST have a tree.  A room can be made to feel festive without one.  Try using wreaths or glittery branches and sprays in glass vases and hurricanes.  These can either be store bought or homemade.
2.  Decorate shelves for Christmas.  Turn a book shelf or console table into a seasonal centrepiece.  Pull together           existing items from elsewhere in the house and shake it up.  Battery operated string lights or branches can be used on shelves and wound around regular objects to dress up the everyday into a more merry vignette.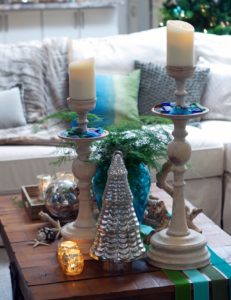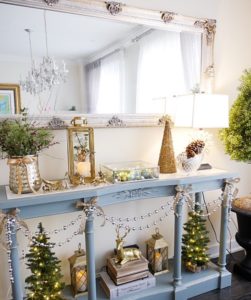 3.  Keep it simple with colours, pick one main colour with an accent and stick with it.  Less is more and its is easy to build on with simple neutrals.
An everyday bowl can be transformed by switching out fruit or shell collections for baubles and something shiny and glittery.  I love to add starfish either real or resin and sparkly ones are very popular too.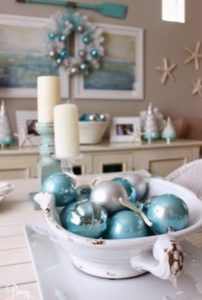 A simple wreath can be glammedup and used inside, hung on a mirror or in place of a picture for a short period of time.
Don't forget the outside.  We spend so much time outside in this climate.  You can always out a tree there too.  I put fairy lights in the smaller trees I have in pots and stringing lights around the edge of a balcony or deck always looks cheery.  Solar powered fairy lights are now available and can be hung in trees and hedges.
However you decide to decorate this season, please come and check out the decorations we have in store.  We will be open late on December 6th for the BVI Bake Off (Starting at 4.30) and Neighbourhood Night on Thursday December 13th.  As usual we will be serving mince pies and mimosas and look forward to see you.
Fran